More people in the U.S. die each year from antibiotic resistant and healthcare-associated infections than from prostate and breast cancer combined.
What is Antibiotic Resistance?
Antibiotics are medicines that are used to treat bacterial infections. When bacteria changes in response to these medicines, antibiotic resistance occurs.
Antibiotic resistant infections can affect anyone at any age and leads to increased medical costs, longer hospital stays and an increase in death rates.
50% of the time, antibiotics that are prescribed are not needed or are given to patients in an incorrect dose or duration. In addition, the use of antibiotics in animals used for food increases resistance.
Here are some Key Facts from the World Health Organization about Antibiotic resistance:
Antibiotic resistance is one of the biggest threats to global health, food security, and development today.
Antibiotic resistance can affect anyone, of any age, in any country.
Antibiotic resistance occurs naturally, but misuse of antibiotics in humans and animals is accelerating the process.
A growing number of infections – such as pneumonia, tuberculosis, and gonorrhea – are becoming harder to treat as the antibiotics used to treat them become less effective.
Antibiotic resistance leads to longer hospital stays, higher medical costs and increased mortality.
A Global Issue
Antibiotic resistance has reached dangerously high levels across the entire globe. As new resistance spreads, it affects our ability to treat even the most common of infectious diseases. In addition, when the public can purchase antibiotics without a prescription, this misuse encourages the spread of infection, making treatments and surgeries such as chemotherapy, organ transplants and caesarean sections more dangerous.
There is an urgent and global need for changes in the way health providers prescribe and use antibiotics to treat infections. New medicines will not solve this problem. Patients and health care providers must understand this global issue and take steps to reduce the spread of resistant infection.
Due to worldwide concern, the U.S. Centers for Disease Control and Prevention (CDC), the U.S. Food and Drug Administration (FDA), the U.S. Department of Agriculture (USDA), and state and local health departments have joined together to create The National Antimicrobial Resistance Monitoring System – Enteric Bacteria. NARMS is a U.S. public health surveillance system that tracks antimicrobial resistance in foodborne and other enteric bacteria. Surveillance in humans began in fourteen sites in 1996 and became nationwide in 2003. The data collected by NARMS is available to the public online and demonstrates how antibiotic resistance has changed over the past 20 years and includes information for four bacteria transmitted commonly through food — Campylobacter, E. coli O157, Salmonella, and Shigella.
See how changes in antibiotic resistance have affected your state over time:
Because antibiotic resistance occurs as part of the natural process in which bacteria evolve, it can be slowed, but not stopped. Therefore, we will always need new antibiotics to keep up with resistant bacteria as well as new diagnostic tests to track the development of resistance.
How is Accelerate Diagnostics Aiding in the Fight Against Antibiotic Resistance?
Accelerate Diagnostics is dedicated to providing solutions for the global, life-threatening challenge of antibiotic resistance and hospital-acquired infections.
Early diagnosis of antibiotic resistant bacteria is critical to providing patients optimal therapy. The only way to know which therapy will work is to test a range of antibiotics. Typical, conventional antibiotic susceptibility testing requires time-consuming manual procedures, resulting in laboratory processing time that often exceeds 48 hours, leaving clinicians with incomplete information to provide definitive treatment during this critical time period.
The FDA-cleared Accelerate Pheno™ system and BC kit, allows laboratories to substantially reduce the processing time required to know which antibiotic treatment will work, which enables clinicians to provide patients optimal, life-saving therapy up to 1-2 days faster than conventional methods.
Accelerate's mission is to drive better clinical outcomes for patients with serious infections. We accomplish our mission by revolutionizing new technology that accelerates lab test results.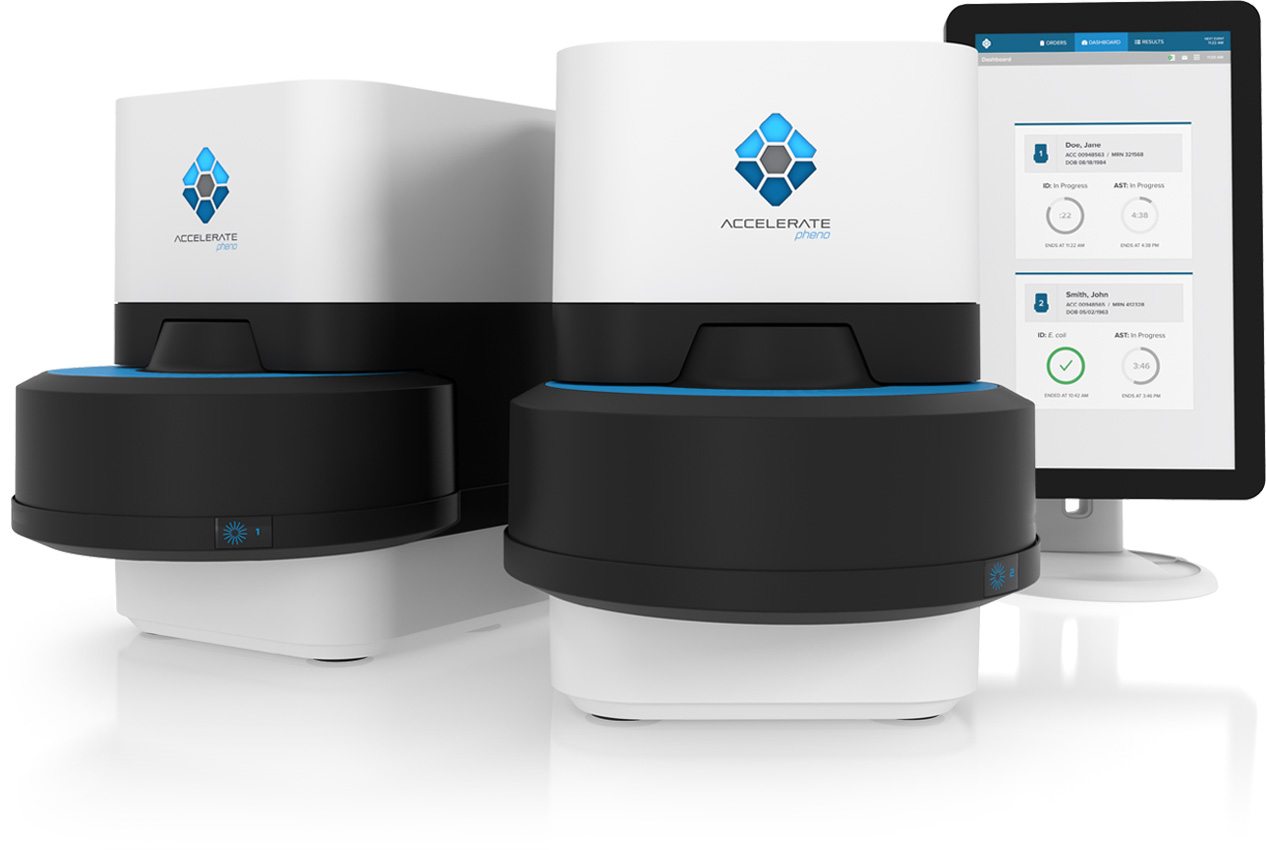 What Can You and Your Doctor Do?
Healthy habits like washing your hands and staying up to date with vaccines are the best way to prevent disease. You can also prevent the spread of foodborne infections by keeping your water safe and by preventing the spread of sexually transmitted diseases.
You should also stay safe when you are sick by using antibiotics the right way and only when needed and prescribed by a physician.
Since hospitals are a source of many of the most resistant organisms, protect yourself by communicating with your doctor about your questions and worries, understand their procedures and protocols for limiting the chance of infection and learn how to take antibiotics safely to reduce your infection risk. See these and other examples of protecting yourself as provided by the CDC ›
If you find yourself faced with a serious infection, ask your doctor about the latest technologies available to fight resistant bacterial infections.
Antibiotic resistance information and facts sourced from the Center for Disease Control and the World Health Organization.